Download our app note on 'Exploring adaptive responses in nitrogen starved E. coli using the Nanoimager'. Just complete the form to be taken to the document.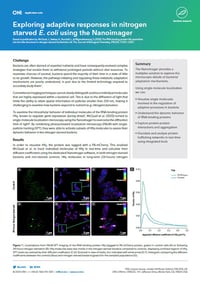 Learn more about how single-particle tracking and PALM microscopy can be used to explore adaptive responses in bacteria.
The Nanoimager provides a multiplex solution to explore the microscopic details of bacterial adaptation mechanisms. In this application note we discuss how our single-molecule platform can:
• Visualize single molecules involved in the regulation of adaptive processes in bacteria

• Quantify the dynamic behavior of RNA binding proteins

• Explore protein-protein interactions and aggregation

• Analyze protein networks using integrated tools

Discover more about how the Nanoimager can be used in bacterial research on our pathogens hub.