In this app note, we discuss how single-particle tracking (SPT) can be used for the identification of unique populations of cohesin and how following the movement of these individual tracks can provide insight into how they interact with chromatin to mediate their DNA-regulating functions.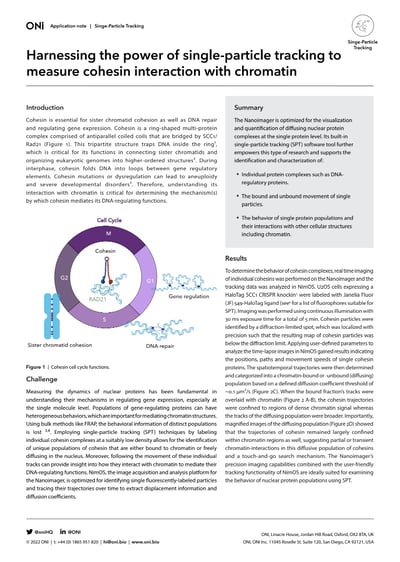 The Nanoimager is optimized for the visualization and quantification of diffusing nuclear protein complexes at the single protein level. Its built-in single-particle tracking (SPT) software tool further empowers this type of research and supports the identification and characterization of:

•Individual protein complexes such as DNA-
regulatory proteins.
•The bound and unbound movement of single
particles.
•The behavior of single protein populations and
their interactions with other cellular structures
including chromatin.
To discover more about super-resolution microscopy and Single-Particle tracking, visit SPT.